Conference Summary 2015
Over 33 speakers, 46 academic papers, 80 authors from Europe and Asia and America, papers on innovative construction at high world level, 16 scientific centers, 18 representatives of self-government authorities in Małopolska. 13 research centers abroad (Austria, China, Japan, Canada, Greece, USA, Germany, Czech Republic, Slovakia, Hungary, Ukraine, Lithuania, Poland) and 12 Polish universities.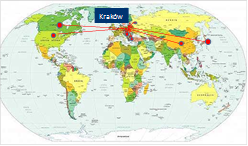 Research papers have been published in: Journal of Building Physics (30 points, Impact Factor 1,5 points by Hirsch) and Technical Transaction 5 B / 2015 and 1 B / 2016 (13 points).
The International Scientific Committee and the Review Committee have 79 people from around the world.
These are the numbers of the second InBuild 2015 International Scientific Conference and Construction Workshop, which also included PhDs and Students. The conference took place on 3-5 November 2015 at the Technical University of Cracow.
The organizers were the Institute of Construction and Building Materials and the "InBud" Student Innovation Research Group. Conference was realized under the auspices of: Passive House Institute in Darmstadt and District of Malopolska Chamber of Civil Engineers, Association of Physical Process Simulation in Buildings, Polish Society of Solar Power.
"The theme of the Cracow Summit was broadly understood as innovative construction, bringing together professionals from all over the world."
The subject of the conference was expressed in the Małopolskie Voivodeship Development Strategy for the years 2011-2020 "Małopolska 2020. Unlimited possibilities".
The conference was accompanied by building workshops. At the stands included companies such as M3 SYSTEM - producer and contractor specialized in energy-saving buildings based on styrofoam, Akcent Sp. From o. o. - research of vibrations of bridges, viaducts and footbridges and Polish Institute of Passive Building. As highlighted by the participants, the interesting idea was an alternative to the traditional approach to the workshop because the participants themselves could erect buildings on a scale of 1:10.

 

The second International Scientific Conference on Innovative Construction "InBuild 2013" was very popular because it attracted 315 participants. The organizers point out that work on the next edition of the conference is ongoing (November 2017).

 

OThe organizers are grateful to the members of the Scientific Committee and the Reviewers' Professors for their work on the merit of the conference and the development of reviews and participants for the preparation and presentation of scientific papers.